1986 Dyno Compe 2 Old School BMX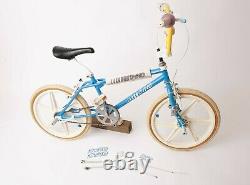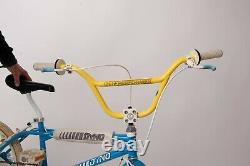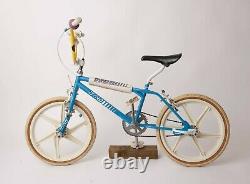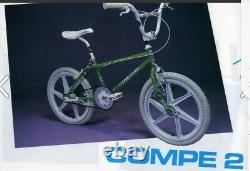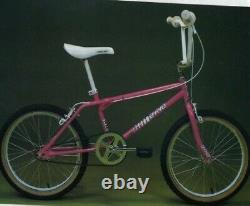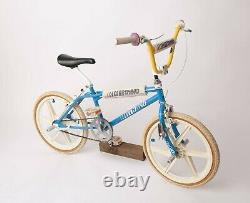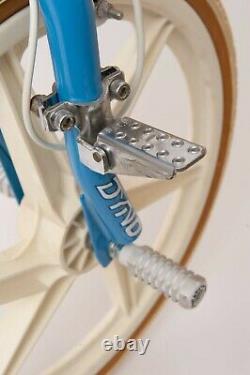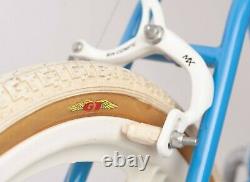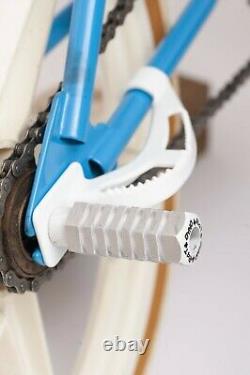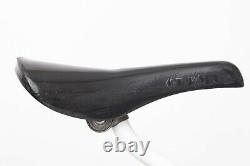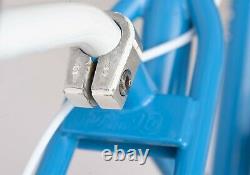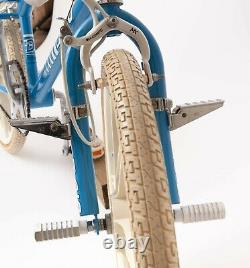 There comes a time in a man's life (more so in his wife's) when it is no longer appropriate to keep a rare, beautiful 1986 Dyno Compe 2 BMX bike by his bedside. That time has come for me. For more than 15 years I championed why it should to not be left in the garage, shed, or any other outdoor storage building where the cold, wet, mice and rats could ruin its natural beauty. So it is with much regret that it is time to move on and give somebody else the opportunity to keep this wonderful piece of BMX history within viewing distance of their bed (if permitted). The guy I bought it from had sprayed the frame yellow and put newer Dyno decals on it in 1988 to make it look like the newer model (He said everyone did this at the time, but that he had regretted that decision in hindsight).
The serial number on the bottom bracket is G6B00434. 1986 Dyno Compe 2 serial numbers start with the F or a G. It is a later 1986 model as it has double plates behind the seat clamp; early 1986 had single plates.
Once on UK shores, I sourced the original GT/Dyno Blue paint colour and then had the frame and forks shot-blasted and resprayed to a professional standard. I also sourced the original decals and original frame pads, and that was the frame and forks ready. Over the next few years, I sourced as many of the original parts for the bike that I could, mainly imported from the US via BMX Museum.
I also sourced an SR Sakae Power chainwheel, which was came on 1986 Dyno Comp (Not Compe 2) models (see the 1986 Dyno brochure picture of the Raspberry Compe model) as I preferred this chain wheel. It did not, unfortunately, come with the chainwheel decals, but you can't have everything! Although not standard on an'86 Dyno Compe 2, I added an optional Gyro base on the headtube. I'll include the gyro cables and de-tangler kit with the sale so you can set it up if you want, or you can stick with the standard Dia-Compe rear brake cable it currently has, as per the original spec.
I also put on a brand new YST bottom bracket, including cups and bearings, this month. So the bike is a mixture of parts in their original conditions (OG) plus restored parts.
I'm also including spare decals. Other parts of note that I painstakingly sought out were. GT Performer Wheels - (OG).
GT Fork Standers - (OG). GT Frame Standers (resprayed white). GT Performer handlebars - (OG). Dyno Drainpipe Seatpost (resprayed white and it does have the D embossed logo under the paint).
Dyno Axle pegs front and rear - (OG). GT seat clamp - (OG). Wellgo VP-800 pedals - (OG). Dia Compe MX brake levers and calipers - (OG). GT logo stamped tyres with GT tread pattern - (OG - NOT new heritage ones).
Standard one-piece crank from 1985 (OG). Here's the link to the 1986 Dyno Brochure so you can compare the brochure model with this. Equally, if you wanted to build a bike like this it would cost you more than my listing price and a lot of time and effort to source all of the parts (if you manage to find some of them for sale anywhere that is). PLEASE NOTE: There is grease / oil on the frame in some of the pictures as I failed to clean it properly for the photos after putting the new bottom bracket and putting the chain on - the frame has never been used after respray. This item is in the category "Collectables\Transportation Collectables\Bicycle\BMX".
The seller is "psns1" and is located in this country: GB. This item can be shipped to United Kingdom.